See our recent segment on Wavy 10 news about the COVID 19 pandemic and how we are adapting. Click below
VB physical therapist makes house calls during the coronavirus spread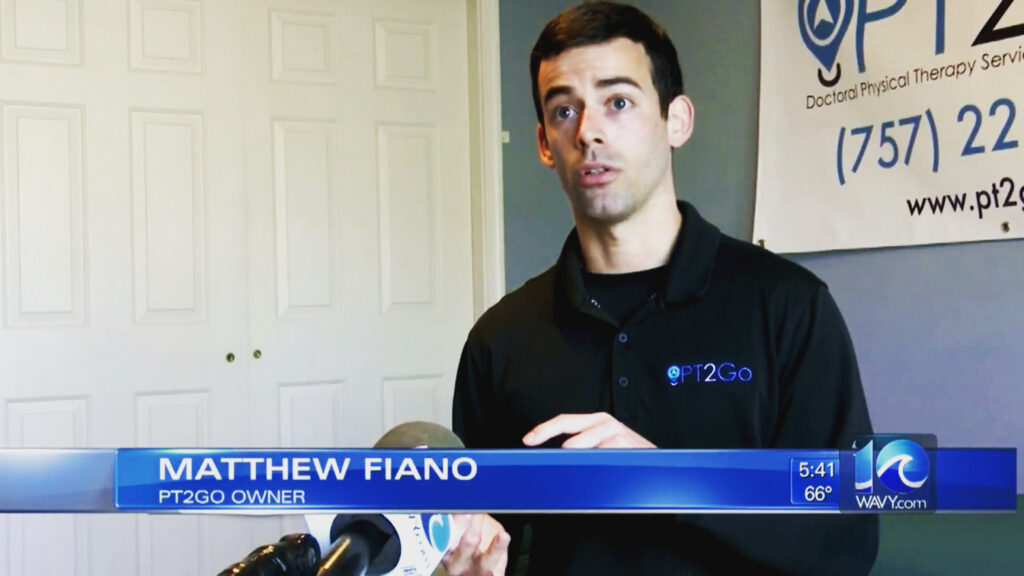 The difference is the attention to detail
---
"I got better faster because of the attention to detail. Matt came to my work and treated me during my break. I would highly recommend!"
-Mike M.
"I was on vacation in Virginia Beach and I used PT2Go for a few personal training sessions. Excellent workout and because he was a physical therapist too, he even gave me some tips for my shoulder problems. Definitely would recommend."
-Jeff W.
"I used PT2Go for an injury. Matt informed me of my injury and gave me exercises and stretches to help me heal. Very efficient!"
-Richard H.
"Matt came the first time and I could barely walk. I was using crutches 2 days prior. He was there for an hour and I instantly felt a Million times better. He went straight to the problem and gave me exercises to do in between visits."
-Chuck B.
Why Choose PT2Go?
Insurance Restrictions
Having a limited number of physical therapy visits you can have per year
Hitting your medicare cap
Having more than one body part that needs to be addressed
You won't get approved for physical therapy
You have been discharged from home health physical therapy, but still want services in your home
You have not met your deductible and have to pay cash-based rate
You have a high copay or co-insurance
You're insurance is out of network for a certain clinic and you're already paying cash based rates
Clinic and Service Limitations
You are not receiving the one on one care you deserve
Clinic scheduling does not suite your availabilty
The clinic you're attending does not fabricate custom made orthotics
You are not satisfied with your care or progress
There nearest clinic is several miles away from home
You do not have transportation to your treatment sessions
You just underwent surgery and are relying on others for rides to therapy
You want personal training with the supervision of a Doctor of Physical Therapy
You would like your team to receive an injury prevention assessment but are unable to transport everyone to another location other than your practice field or facility
Life and Personal Examples
You have multiple children with varying schedules
You are care taking for a family member
You would like your injury to remain confidential
You are more comfortable in your house or place of your choosing
---
Please give us a call if you believe you could benefit from our services, we are passionate about what we offer and strive to exceed expectations